A Leader for DXP according to Forrester (and me!)
Justin Masters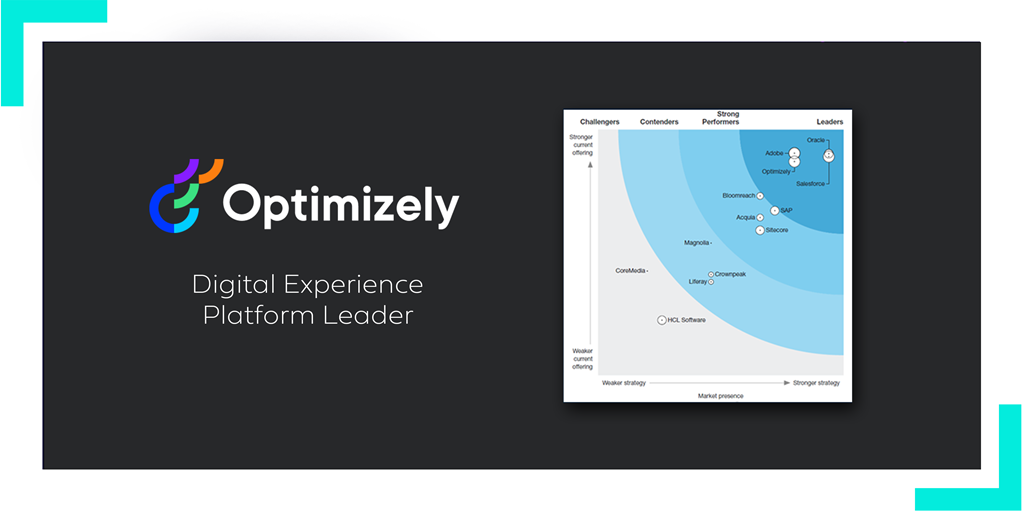 It is always gratifying when a respected, independent group of subject matter experts and researchers validate something that you already know to be true. And this is where I find myself having read the latest Forrester Wave™ Digital Experience Platforms, Q3 2021 report which was published at the end of July.
The report firmly positions Optimizely (formerly Episerver) as a Digital Experience Platform (DXP) Leader, outscoring other platforms in practically every measure applied. This is one of the many reasons why, as Netcel CTO, I champion Optimizely and it is the sole platform we use for delivering market leading digital experiences for our clients. Our Platinum Partner status is testament to our committed and long standing advocacy of the Episerver – now Optimizely platform.
The report - subtitled The 13 Providers That Matter Most And How They Stack Up - provides an independent evaluation of the key players in the global DXP market place, namely: Acquia, Adobe, Bloomreach, CoreMedia, Crownpeak, HCL Software, Liferay, Magnolia, Optimizely, Oracle, Salesforce, SAP, and Sitecore. Each provider has been extensively researched, analysed, and scored against 26 criterion. Scoring covers an evaluation of current offering, strategy and market presence.
Forrester have identified some key areas for consideration and offer advice to help digital experience professionals select the right one for their needs. To follow is my view on why Optimizely has been identified as a clear DXP Leader by Forrester and in the context of their top line advice.
Forrester advice: Buyers should look for platforms with pre-built integration
Forrester note that platform integration with existing marketing technology is often a troublesome part of deploying a DXP and recommend that customers should look for platforms with pre-built integration to other systems. Not surprisingly, Optimizely scores highly in this respect. It has always been the case that Optimizely have a high level of interoperability with other systems. This was seen recently as key within their acquisition of Zaius (now Optimizely Data Platform) which comes with 50+ pre-built connectors in to other marketing technology platforms.
Forrester advice: Your DXP should elevate testing and optimization to a first-class capability
Forrester also, rightly, highlight how deploying a successful digital experience is not only about using AI to predict behaviour. Customers need the ability to test and optimise their digital experience, which fits closely to Optimizely's strategy – notably evidenced by their acquisition of the platform formerly known as "Optimizely" (prior to Episerver rebranding as Optimizely in 2021) allowing customers to experiment at scale, moving on from simple A/B testing.
Optimizely's is well suited for organisations to mature their experimentation capabilities from wherever they are, from early stages through to highly advanced capabilities as they develop an experimentation culture.
Forrester advice: Prioritize the practitioner experience
The Forrester panel also note that platforms need to offer microservices - for today's modern interconnected systems world. Another important benchmark for Optimizely who have always provided a good level of API's and are rapidly adapting to the API-first world that is often demanded by customers for modern digital experiences.
Surfing the wave
From an Optimizely perspective, their strategic direction and acquisitions over the past two years are strongly validated with their move towards the top right of the Forrester Wave placing them alongside Adobe having made massive strides from previous positionings.
Optimizely's key strengths are noted as including testing and optimisation, platform operations, campaign management and customer journey management and significantly, ease of use and also noted as a good fit for companies that are content and commerce centric. Other platforms were noted as being weaker in testing and experimentation - which is key for a modern, data driven digital experiences.
How to spot a Leader
Based in Forrester's findings, there are four differentiators that digital leaders should look for when they are in the market for a DXP:
Look for a platform that provides pre-built integrations
Find a platform that delivers a streamlined experience for you and your team (the practitioner) so you can focus on crafting digital experiences
Choose a platform that supports continual testing and optimization
Look for a cloud-native platform that evolves without requiring upgrades, built for interoperability
In a digital experience driven world, your choice of DXP is a business critical decision and the structured, quantitative and qualitative insight provided by Forrester's impartial panel of experts is invaluable.
Need some help? As experts in bridging the gap between digital aspiration and reality, we can provide advice and support wherever you are on your digital journey.
We'd love to hear from you so get in touch to book in a free digital consultation with our friendly, straight talking team.