An inspiring experience with the digital leaders of the future: BIMA Digital Day 2021
Lorna Johnson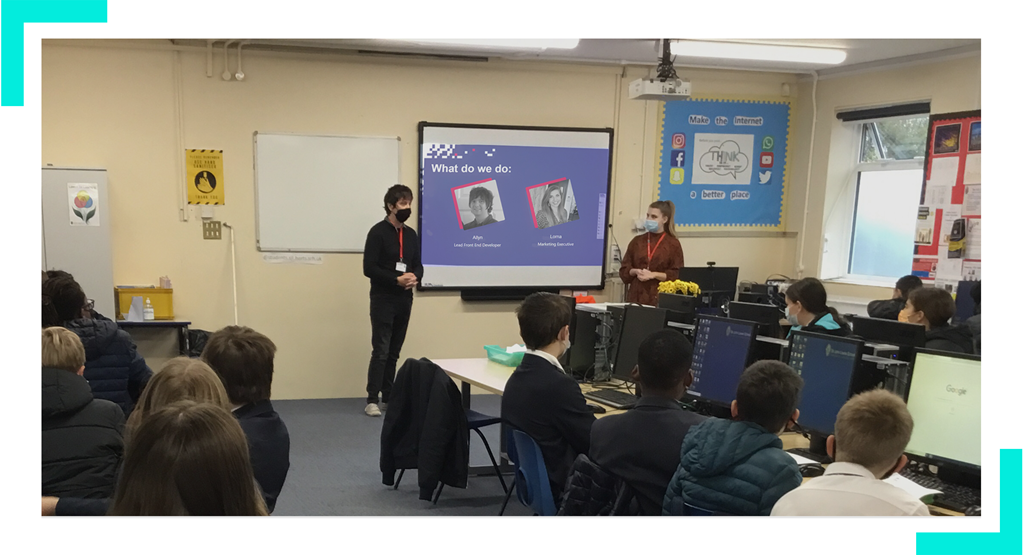 On the 10th of November, our Lead Front End Developer, Allyn Thomas and our Marketing Executive, Lorna Johnson, went back to school for the day to volunteer for BIMA Digital Day, at Sir John Lawes school in Hertfordshire.
What is BIMA Digital day?
The purpose of the day is to inspire a class of Year 9 students (12-year-olds) to consider a future career in the digital industry and give them an insight into what it's like to work in the digital world. Allyn and Lorna spent the morning presenting to the class about what digital means, what Netcel do, how digital is used in daily life and the many different career paths in the digital industry. The Netcel team spent the rest of the day guiding the students through this year's challenge, set by WWF (The World Wide Fund for Nature).
The Brief!
The brief this year was to solve one of the World's biggest challenges - climate change! Specifically, to create breakthrough digital solutions to measure and reduce the UK's carbon footprint.
The students got into small groups to tackle the brief together. They spent time researching and designing their digital solutions throughout the day, before pitching their ideas to the rest of the class.
All groups came up with outstanding ideas, including a virtual reality game to encourage recycling, a social media campaign to raise awareness of climate change, and an app to help calculate your carbon footprint. After all the students had pitched their ideas to the class, the judging panel (consisting of Allyn, Lorna and Mr Akhlaq, the class Computing Teacher) had the difficult task of choosing a winning team, who's digital solution will be submitted in to the nationwide competition run by BIMA (sponsored by EPAM), for the chance to win £500 for the school and some fantastic prizes for themselves!
The Winning Team
After much deliberation, the panel came to a conclusion and selected the winning group called 'CBFT'. They came up with a new app that will enable people to track the environmental footprint of products and services they regularly use. The app allowed users to scan a barcode on a product to reveal the environmental impact it has had on the planet. If the footprint is high, the app will then suggest more environmentally friendly alternatives to purchase instead. The group created logos and grading systems for shops to display in their windows to show their overall environmental impact is as well.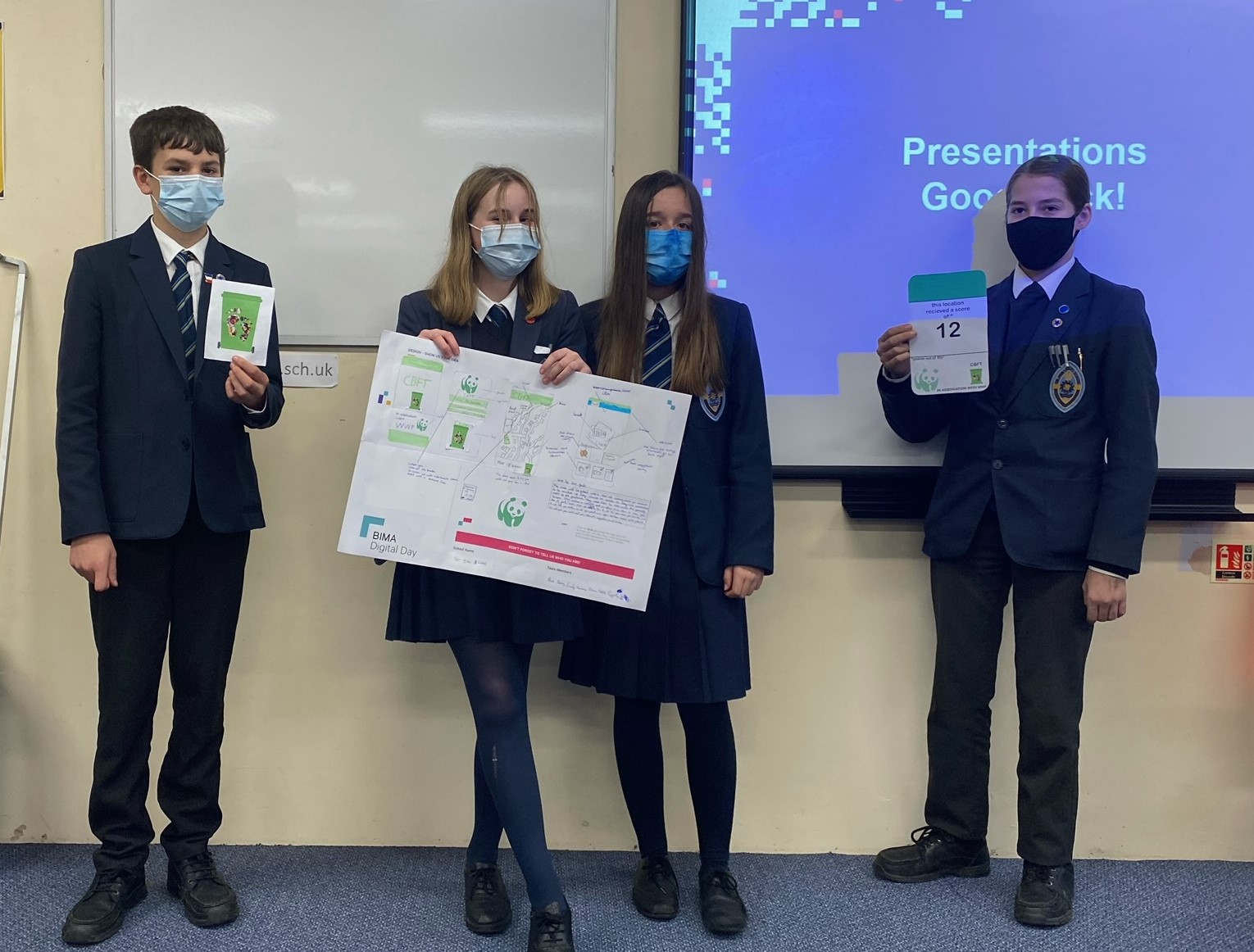 What did the students get out it?
Although not every group could win on the day, a lot of students went away feeling inspired. One student gave some feedback:
'I found this day amazing since I would like to have a career in the digital industry, and this day gave me a huge insight of what I can do. It was so good that I would love to do it again'.
A parent of one of the students also tweeted;
'Great Digital day today Sir John Lawes, my son came back inspired!'
What did Netcel get out of it?
'I feel really fortunate to have been able to have spent the day with the students from Sir John Lawes for Digital Day. They were all so enthusiastic and there was such a buzz in the class room all day. One group were so invested in their idea, they didn't want to go on their lunch break! (Of course we made sure they got some lunch)
I was blown away by how intelligent and creative the class were. It was great to see each individual use their strengths to help tackle different parts of the brief, from designing the product or logo on Photoshop, to actually coding and creating an online game! I'd love to take part in BIMA Digital Day again and would encourage others to get involved in this wonderful initiative set up by BIMA.'
- Lorna Johnson, Marketing Executive, Netcel
'This was my second time taking part in BIMA's digital day at Sir John Lawes; When Netcel asked for volunteers I jumped at the chance to do the day again. What I get out of the day the most is the different energy dynamic you get working with groups of enthusiastic, bright young people who have a passion and thirst for knowledge and expressing their ideas. The variety of ideas, personalities and confidence levels all coming together in groups to make their presentation the best it could be is a delight to witness and being able to encourage and focus their ideas is very rewarding and enjoyable. You get to have great conversations with the groups and individuals about a subject I practice every day and impart my knowledge and experience to them, marrying that with their ideas and enthusiasm can create something completely new. The most difficult part of the day is choosing a winner, having encouraged and observed each groups process they all bring something special to their presentations. It's corny, but you really do want to make them all winners, but if they do choose career paths in digital, the real winners will be the digital industries and the billions of people that rely on them.'
- Allyn Thomas, Lead Front End Developer, Netcel
How can you get involved?
We believe that BIMA Digital Day is an important and inspiring event and would strongly encourage other agencies to take part in these events in the future. Agencies can already apply to take part in BIMA's digital day 2022, follow the link to get involved and find out more: BIMA Digital Day 2022
Stay up to date – Join our community today to receive the latest insights straight to your inbox
Subscribe