Episerver (Optimizely) named Leader in Gartner Magic Quadrant for Digital Experience Platforms
Justin Masters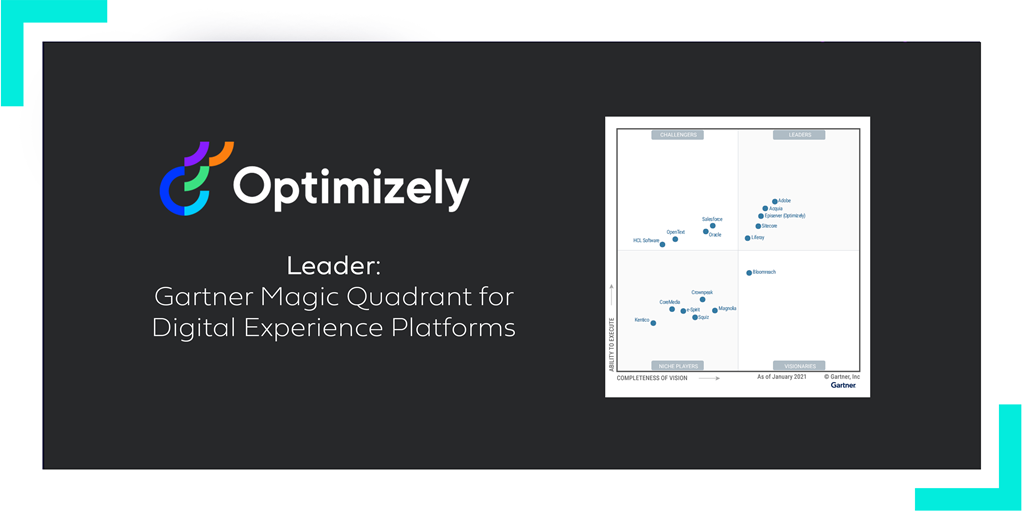 For the second consecutive year, Episerver (Optimizely) has been named a Leader in the annual Gartner Magic Quadrant report. This closely follows Episerver's acquisition of the leading experimentation company, Optimizely, in 2020, and the announcement in January 2021, that Episerver has now become Optimizely.
16 digital experience platforms (DXP) are evaluated in the Magic Quadrant, with the coveted top right hand quadrant – those platforms listed recognised as Leaders in both ability to execute and completeness of vision – occupied by Episerver (Optimizely), Adobe, Acquia, Sitecore and Liferay.
Episerver (Optimizely) has now overtaken Sitecore to sit among the 'top 3' DXP in the market, according to Gartner. This new position reflects Episerver (Optimizely)'s strong combination of vision execution, customer understanding and marketing.
Source: Gartner, Magic Quadrant for Digital Experience Platforms, Irina Guseva, Mick MacComascaigh, Mike Lowndes, 26 January 2021.
Here we've examined the top three strengths of Episerver (Optimizely), as identified by Gartner, and commented why we believe these are unique offerings to companies looking to re-platform.
Understanding of the DXP market
Gartner cites Episerver (Optimizely) as having a good understanding of the DXP market, supported by its product vision and recent acquisitions (Idio, Insite and Optimizely itself).
An exciting feature of the Episerver (Optimizely) product suite is Intelligence Cloud, comprised of advanced personalisation and content intelligence (formerly Idio) and digital experimentation (Optimizely Experimentation). These remain as standalone products meaning if a company is on a different CMS or DXP to Episerver, they can still use these Episerver (Optimizely) products to add features such as product experimentation, rapidly prototyping and automated content and product recommendations to their capabilities and existing martech.
Improved marketing effectiveness
Episerver (Optimizely) is commended by Gartner for having improved its overall marketing effectiveness with messaging and prescriptive guidance that resonates with the aspirations of its target audiences.
As an Episerver (Optimizely) Platinum Partner and Partner Advisory Board Member, we work closely with the leadership of Episerver (Optimizely) to consider the pain points of its audience and collaboratively look to overcome these through joint initiatives, such as our series of Digital Leaders Meetups
Transparent pricing aligned with business value
Gartner highlights Episerver (Optimizely)'s highly transparent and modular pricing and packaging model. This pricing strategy appeals to large enterprises and growing mid-markets.
Pricing is centred around number of page views. Episerver (Optimizely)'s cloud-based platform is instantly scalable and can have unlimited editors. This means there are no hidden costs and ensures companies only pay for what they need today with their infrastructure managed by Episerver (Optimizely) and meeting high levels of compliance such as ISO 27001 standards. Episerver (Optimizely) allows customers the opportunity to scale when ready to grow, giving organisations the ability to adapt with sudden traffic spikes, such as seasonal variations.
Why Netcel back Episerver (Optimizely)
To optimise your digital customer experiences, businesses need to be able to conduct several series of mini experiments and learn from these in real-time to be able to deliver optimised experiences at scale. The combined power of Optimizely and Episerver enables organisations to create, optimise and experiment at scale.
For over two decades, we've seen our clients achieve incredible results that drive business outcomes using the Episerver platform. This will continue to strengthen as the Optimizely product is fully integrated into the Episerver suite.
For businesses looking to re-platform to a new DXP, we recommend reviewing the platforms featured in the top right hand quadrant of the 2021 Gartner Magic Quadrant for Digital Experience Platforms. These platforms are commended for both their ability to execute and for leading the digital experience technology market. Episerver (Optimizely)'s Year-on-Year movement towards the pinnacle of this quadrant is testament to the advanced roadmap of the platform and momentum it has.
As experts in bridging the gap between digital aspiration and reality, we can provide advice and support wherever you are on your digital journey.
Let's talk