Optimizely (Episerver) named Leader in Forrester New Wave for Feature Management and Experimentation 2021
Justin Masters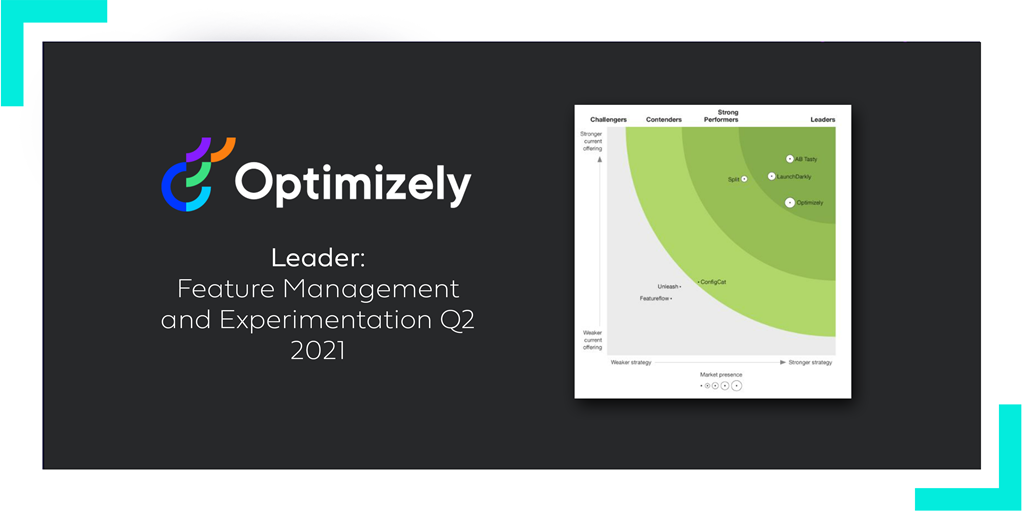 Optimizely has been named one of three Leaders in The Forrester New Wave™: Feature Management and Experimentation, Q2 2021.
The report assesses seven providers against their strength of current offering and strength of strategy, with Optimizely commended in both areas.
Forrester's assessment of Optimizely
Forrester's 2021's report cites Optimizely's strengths in several areas. These include:
Strong experimentation and analytics capabilities – Forrester cites that Optimizely comes from both traditional A/B testing for marketing and serves application development teams with a full stack offering. This delivers both experimentation and leading analytical capabilities with patented analysis algorithms.
Suits companies that want a strong strategic vision for content and app delivery – Forrester comments that the merging of Optimizely and Episerver has produced a combined vision that serves digital teams that want an end-to-end platform that helps both the digital experience and the app development teams.
Optimizely customers very happy with its security, privacy and customer support – Forrester reports that Optimizely customers are satisfied with all major capabilities related to experimentation.
Forrester also assesses each vendor's offering across ten key areas, from feature management to market approach. Each area is graded one of the following: differentiated, on par, needs improvement or no capability.
The Optimizely Full Stack platform was assessed as having capabilities in all ten areas, with differentiated capability in experimentation, audience targeting and vision, and on par capabilities in six further areas. Furthermore, only Optimizely and one other vendor were singled out for having a differentiated vision and experimentation offering.
The report outlines:
An overview of feature management and experimentation trends
The strengths of seven feature management and experimentation vendors
Assessments of each vendor's scorecard
In-depth analyses and helpful information for enterprises that want to invest in a robust strategic vision for content and app delivery
What's next for Optimizely?
The past year has seen the Optimizely (Episerver) platform go from strength to strength, with the company recently offering two new products - Optimizely Web and Optimizely Full Stack.
In addition, Optimizely has recently acquired Customer Data Platform, Zaius. This new acquisition bolsters Optimizely's current CDP platform, and now enables marketers to deliver highly contextualized and personalised experiences, driven by data.
As experts in bridging the gap between digital aspiration and reality, we can provide advice and support wherever you are on your digital journey.
Let's talk