Optimizely (Episerver) named Leader in Forrester Wave Agile Content Management Systems 2021
Justin Masters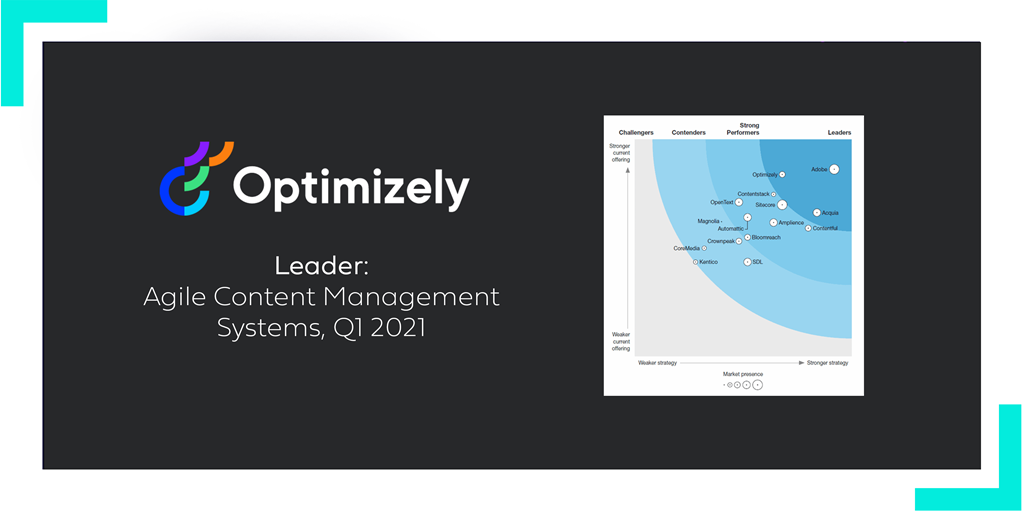 Optimizely (Episerver) has been named a Leader in The Forrester Wave™: Agile Content Management Systems, Q1 2021.
The report assesses 15 CMS vendors against their strength of current offering and strength of strategy, with Optimizely (Episerver) commended in both areas.
2021's report cites Optimizely's strengths in several areas. These include:
Strong content services and personalisation capabilities, which help marketers create the right amount of content based on user demand.
New platform acquisitions to include a testing and optimization platform (originally Optimizely) and content personalisation platform (originally Idio), which have greatly boosted the company's ability to take a more agile approach to omnichannel content management.
Differentiated testing and optimisation capabilities within developer and practitioner tooling.
Forrester note that Optimizely is a good fit for midmarket and enterprise clients in retail, financial services, and technology.
The past year has seen the Optimizely (Episerver) platform go from strength to strength, with the company recently offering two new products - Optimizely Web and Optimizely Full Stack.
In addition, Optimizely has recently acquired Customer Data Platform, Zaius. This new acquisition bolsters Optimizely's current CDP platform, and now enables marketers to deliver highly contextualized and personalised experiences, driven by data.
The report outlines:
An overview of agile CMS trends
The strengths and weaknesses of 15 CMS vendors
Assessments of each vendor's strategy, market presence and current offering
An in-depth analysis and helpful guide for digital product owners looking to migrate to a new CMS
As experts in bridging the gap between digital aspiration and reality, we can provide advice and support wherever you are on your digital journey.
Let's talk