The Tech Driven Customer Journey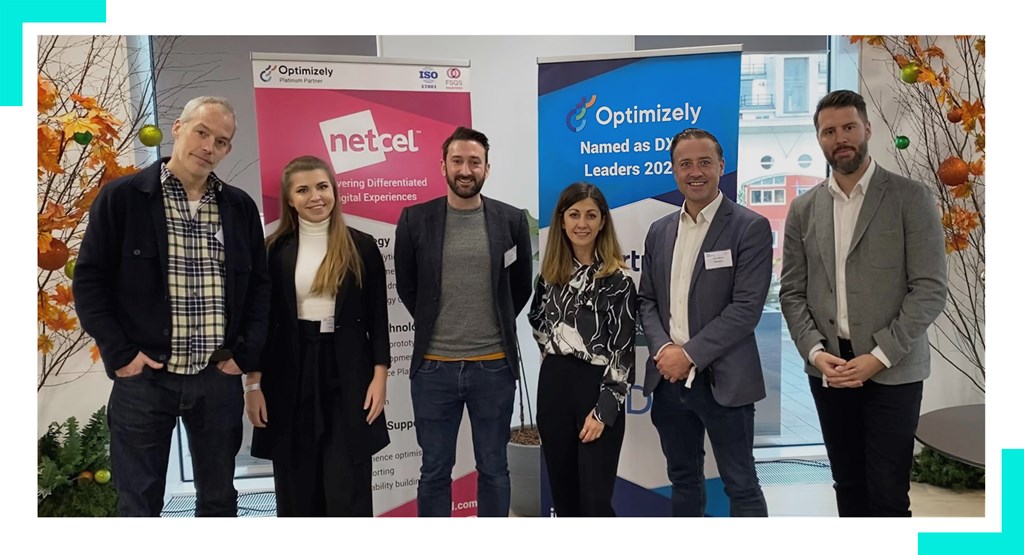 Netcel were delighted to be presenting at the recent Financial Services Forum event, The Tech Driven Customer Experience, with our partner Optimizely. With two great presenters - Joey Moore Senior Product Director from Optimizely and Dom Graveson, Strategy and Design Director at Netcel, it was always going to be an engaging and insight packed presentation. Here are some of the highlights of how to use data and empathy to do more with less in a digital experience driven world...
Digital is no longer a business strategy. Digital IS your business!
In an entertaining introduction and scene setter from Optimizely's Senior Product Director, Joey Moore, provided some context for the presentation. A quick recap on the growth of digital adoption – from the society changing launch of the iPhone to the multiple generations of digital natives who have never known a world without smart tech.
Also referencing the concurrent evolution of digital technologies to meet the demands and expectations of both consumers and marketers, its acceleration in response to the Coronavirus pandemic – and in particular the shirt from CMS to DXP – to support must-have connected experiences.
Context: Is your organisation data rich but insight poor?
With many organisations striving to be data-led, a strong message from Joey and Dom is that data is (essentially) useless without applying actionable insights and meaning. To make more informed and profitable decisions, making sense of the vast quantity of data available to us is imperative. Understanding the customer journey from a holistic point of view and deriving meaning from information is the key to making the right strategic decisions.
By analysing and applying meaning to the quantitative, qualitative and anecdotal data you have will drive great strategy and better decisions. What products to take to market, how to improve your products, what markets you should be addressing, who your customer are and how their behaviour is changing to achieve the right outcomes for financial services businesses and your customers.
Using data and insight to apply personalisation and empathy to customer journey
Using a case study of a couple, Fran and Mark, who want to purchase their dream home, Dom brings to life their journey. There are many influences on this couple on their journey to where they want to be: hard factors such as earnings, savings, financial help from parents but also softer influences including brand perception, are they represented in the marketing of the brand and recommendations from friends and family for example.
If FS brands want to deliver experiences that help them to achieve their goals, you need to understand all of these factors – using empathy as well as data.
By creating and adjusting the experiences based on the data, insights and empathy – applied to digital experience via experimentation to test different variants to find the most effective.
Capability. How do you activate data and insight?
How do you build the capability? There is a commonality of the challenges with Financial Services organisations, large and small which are highly regulated.
Building the capability to innovate can be driven by utilising the right tools, processes and in-house capability to take advantage of data.
Optimizely is a good example of a tool that enables brands to view how a visitor is engaging with your site for example – topics can be automatically generated by the platform based on their likes and behaviours. Enabling one to one personalisation.
Apply a managed risk approach to experimentation. Take small steps to test your hypothesis – all driven by the data!
Culture: From Business as Usual to Learning as Usual
Many organisations are guilty of focussing their strategy and budget plans with a 'business as usual' mindset. When applied to the digital products the focus is often on the build and deployment but without resourcing the for the ongoing improvement.
Dom prefers the concept of learning as usual (LAU). Building a culture of ongoing optimisation of your technology, applying hypotheses and using a test and learn approach via experimentation will drive better outcomes.
To build great digital products and experiences in partnership with your customers needs and understanding of the context through hard and soft data, insights and empathy, build capability and utilise the right tools and develop an internal culture for ongoing improvement.
Watch the presentation on demand here: Harnessing Data to do more with less
Looking at your digital strategy for 2022 and beyond?  Get in touch, we would love to chat!
Let's talk