Optimizely: Leading the way in the Digital Experience Platforms market
In an era characterised by rapid digital transformation, there is an imperative for enterprises to redefine and continuously optimise their digital experiences to stay competitive. As organisations pivot toward enhancing their online presence and digital customer interactions to achieve business objectives, the role of Digital Experience Platforms (DXP) has never been more crucial. 
And Optimizely (formerly Episerver) is now one of the key players, standing out as a market leader, steering the course of the DXP market with its rapid development and innovation and commitment to customer success. That is why Netcel work exclusively with the platform and are experts in both replatforming to Optimizely and helping our clients to maximise their investment in the platform.
The trajectory of Optimizely's success can be tracked by the transformative growth and development of the platform through the acquisition of best-in-class platforms – Zaius (now Optimizely Data Platform) Optimizely (experimentation) and Welcome (now Optimizely Content Marketing Platform) and others and by its huge investment in product development to enhance the capability, flexibility and interoperability as a suite and DXP.
And also by its meteoric rise to the top of analysts rankings including Garter, Forrester and IDC.
Gartner's 2023 Magic Quadrant for Digital Experience Platforms market report again identifies Optimizely as a strong Leader - for the 4th year in a row – catching up with established player Adobe and eclipsing others such as Sitecore whose position has dropped at the same rate as Optimizely's has risen over the last few years. Gartner highlight Optimizely strengths as a comprehensive suite of capabilities that empower businesses to create, manage, and optimize digital experiences seamlessly. 
Gartner: "Optimizely's user-centric design and robust features enable enterprises to achieve meaningful digital transformation outcomes."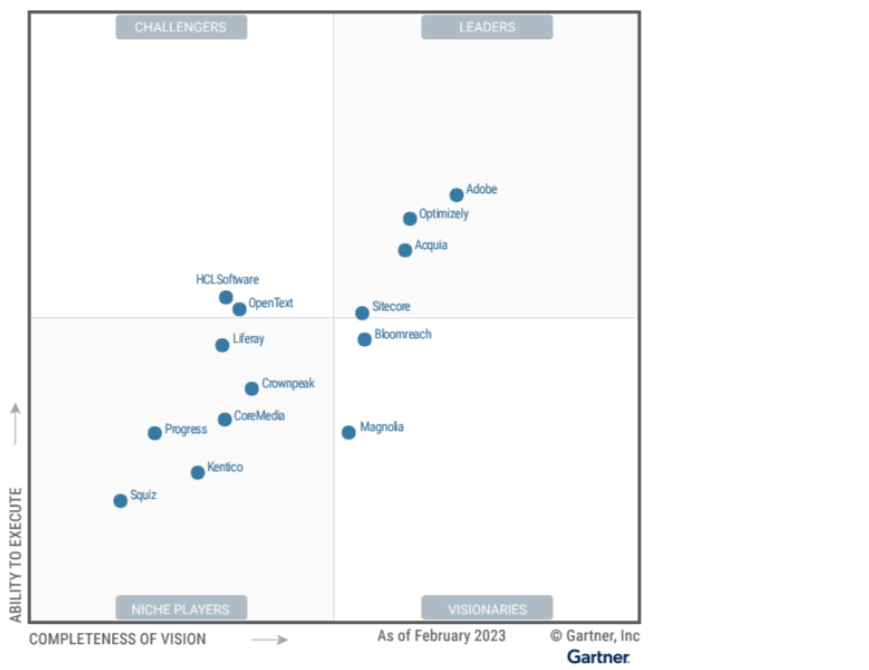 Of course, Gartner also identify some cautions – in particular around lack of unified UI for the multiple technologies acquired, cross product functionality and unified analytics.
No-one could accuse Optimizely of not acting on the cautions noted by Gartner. Their product roll out and ongoing development and release roadmap in 2023 is focused on addressing the integration and accessibility of the Optimizely portfolio, including the roll out of:
Opti ID & Product Switcher

Connect Platform

Google Analytics 4 Integration

Advanced Audience Targeting

Customer Activation Dashboard

Optimizely Content Marketing Platform (CMP) has also been recognised as a Leader in 2023 Gartner Magic Quadrant for Content Marketing Platforms – for the 6th year in a row. Now in the no.1 Leader position, Gartner highlight Optimizely CMP's strengths in AI for ideation, content creation acceleration and flexible, scalable UX and permissions.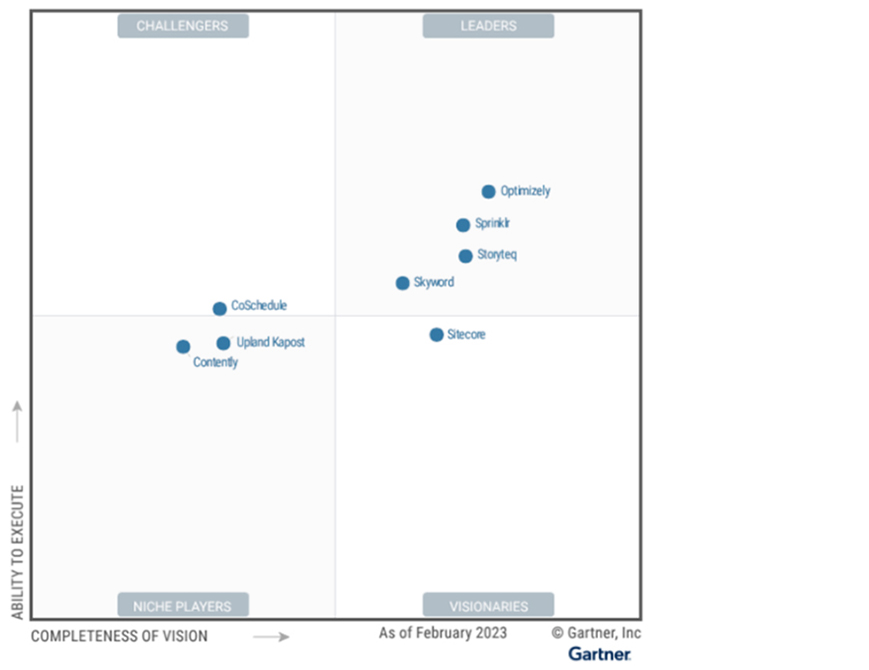 "Optimizely shows strength in testing and optimization, digital commerce, and platform operations. It also has strength in campaign management, customer journey management, and platform certifications."
HOT OFF THE PRESS! Forrester, renowned for its meticulous analysis, echoes Gartner's sentiment, positioning Optimizely as a Leader in the latest Forrester Wave for Content Management Systems, published in August 2023.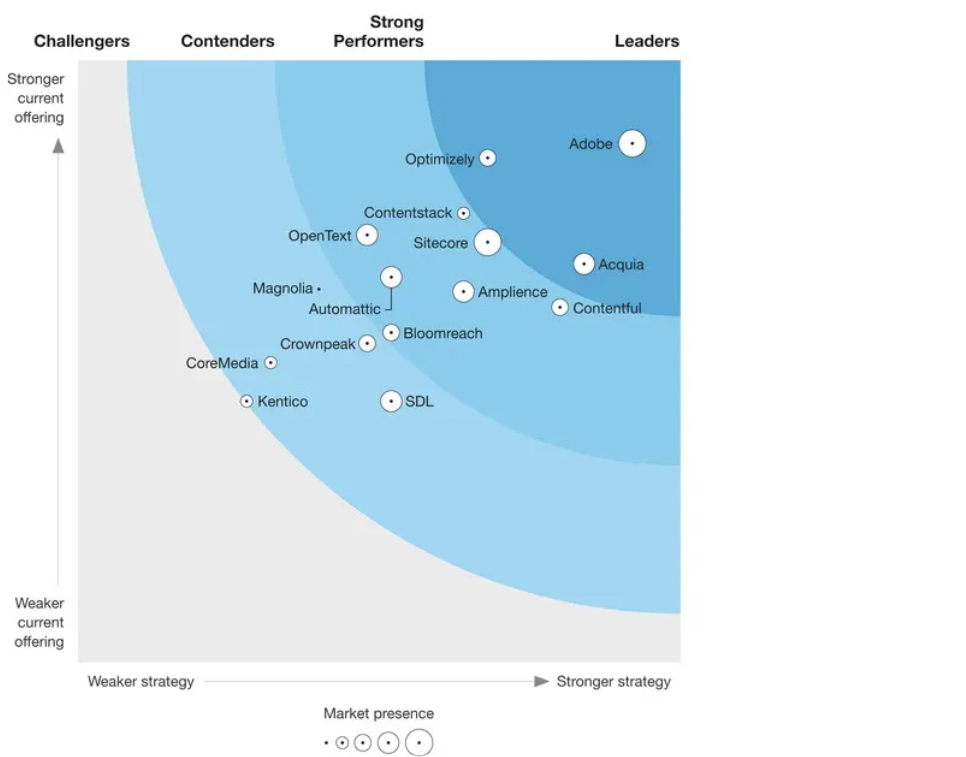 Forrester also notes Optimizely's DXP as 'a catalyst for growth' and firmly positions Optimizely as a Leader in most recent The Forrester Wave for Digital Experience Platforms: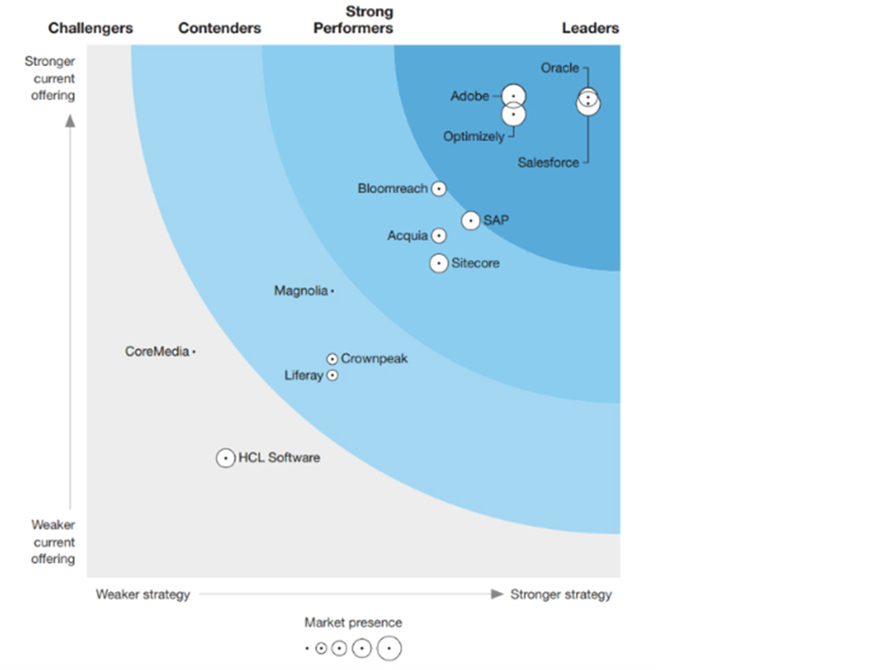 In IDC's comprehensive research, IDC MarketScape 2023 Vendor Assessments, Optimizely has been confirmed as a Leader in both the Full Stack CMS and Hybrid Headless CMS categories, underscoring its flexibility and ability to drive personalised engagement and forge lasting customer relationships. 
Notably, recognition in the Hybrid Headless CMS category dispels the perception that Optimizely is not a headless solution. In fact, Optimizely provides businesses with the flexibility to deploy as a coupled, headless or hybrid headless solution.
Users love us!
But the accolades aren't confined to industry reports alone. G2's customer reviews and ratings reveal a resounding consensus on Optimizely's impact. Awarded 20+ badges in the recent Summer release, for Optimizely Content Management System (CMS), Content Marketing Platform (CMP), Web Experimentation, Feature Experimentation, Configured Commerce and DXP.
A satisfied customer hails, "Optimizely's intuitive interface and advanced testing capabilities have revolutionized how we optimize our digital channels, significantly enhancing our customer experience."
Another reviewer enthuses, "Optimizely's DXP offers an unmatched blend of flexibility and scalability, empowering us to adapt to evolving market dynamics effortlessly."

Optimizely's commitment to innovation has become a hallmark of its success. Its adaptive AI-driven insights, seamless integration capabilities, and holistic approach have earned it a place at the forefront of the industry.

As organisations strive to create meaningful connections with their audiences and navigate the complex digital landscape, Optimizely is well placed to help them to deliver exceptional digital experiences and business outcomes. With its trailblazing spirit, user-centric development, and accolades from industry leaders, Optimizely is undeniably leading the way.
To explore how Optimizely can transform your digital experiences and business, get in touch.
Stay up to date – Join our community today to receive the latest insights straight to your inbox
Subscribe