Why good digital experiences happen by design
Phil Heywood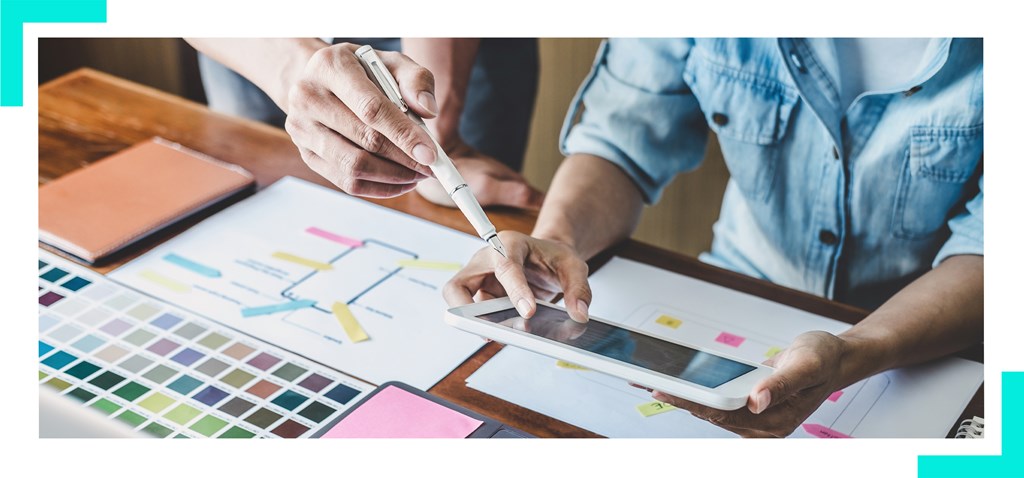 This is the first part in a series where we'll be looking at the role design plays in creating digital experiences that have a positive impact on both business and customer.
For anyone doing something creative, the most exciting point is often at the beginning, when it's just you and a blank canvas. The possibilities are infinite, and the end result is waiting to be discovered.
Projects for personal enjoyment or emotional expression allow you to have happy little accidents, but when creating a product that has a specific purpose, the approach has to be much more considered. We must know what the end result needs to be, and how design can help get us there.
This is a fundamental difference between art and design.
The outcomes of experiences.
Any kind of experience can be described as the interface between the human and the thing they are experiencing, be it a painting, a book, a song, the Grand Canyon, a supercar, a toaster, a website, or an app.
Each of these examples elicit an emotion from the person experiencing them: be it awe or indifference or something in between. Products also encourage action—or, at least, the good ones do. Digital products have the power to do both, and in ways much more varied and persuasive than ever before.
Emotion and action. These are the outcomes we look for when designing digital products.
The journey from A to Z
You could argue that a supercar elicits certain actions. How many people will sit at the wheel of a Ferarri SF90 Stradale and NOT think about seeing how fast it'll go?
Certainly, when its designers sat there with their blank canvasses, they knew they needed to create something that looks beautiful (especially in red), and is quick. That its drivers would want to experience its acceleration and top speed would naturally follow.
But what about if you're designing an experience that has to result in someone doing something they may not necessarily want to do, or at least, are considering but haven't yet decided?
"I love dogs, but would I pay to sponsor a puppy in the shelter?"
"I need a new laptop, but is the latest model worth the expense?"
"I'm looking for legal advice, but can I trust this law firm?"
"This app looks good, but should I upgrade to the pro version?"
"I was only browsing, but shall I go through with this impulse purchase?"
As the business in each example, you'll want the answer to be a resounding "yes", but usually there will be work to do to bring people to that point. Between thinking "Maybe I might...", and "I've made my decision", everyone will go on a journey that will be personal to them.
This journey may be direct or circuitous, take minutes or months, be online only or take place largely in the real world. Consider the many differences between buying a phone charger on Amazon, and a new house.
The funnel
Helping people along this journey is a function of marketing: communicating the what, the how, and most importantly, the why of the product or service being offered. In technical terms, if I'm on the lookout to buy something you sell, I enter a funnel through which you will me to pass through a number of stages.
Awareness
First of all, I need to actually know about your business. Am I already aware of you and what you're well known for, because you advertise a lot, or I've already previously been a customer. Will you appear prominently in a search?
Interest
Second, am I interested in what you do? Do you sell the sort of thing I'm looking for?
Consideration (or Research)
Then, if so, how do you stack up against the competition? Are you known for high quality and reasonable prices. Do you have lots of satisfied customers? What else can you tell me about the product or service? Do I think I will get value for money?
Intent (or Desire)
I've done my research and I've made the decision to go ahead and buy what I want from you. What do I need to do next?
Action (or Conversion)
I've put the product into a shopping basket, provided my shipping and payment details, and am awaiting delivery.
A nudge in the right direction
This process is referred to as a funnel as it directs people towards what they want them to do. However, this funnel is never 100% effective. For example, I might go to your website, but find you don't have quite what I'm looking for. Or you do, but you're too expensive. Or you're competitive, but I decide not to go through with it right now.
Also, people don't exist in a vacuum: my journey may get interrupted by things as mundane as the doorbell ringing, or my phone battery runs out. I may drop out now, but return later on and repeat some of the same stages. Or skip a stage entirely.
People are complicated and unpredictable... but they can also be influenced. This is what marketing is all about, and digital marketing offers a wealth of tools and techniques to influence very effectively. Not sure about booking this holiday? Watch this video! Wondering how good a particular car is? Book a test drive online! Not sure how reliable this USB cable is? Read the latest reviews!
Not only that, but modern digital platforms can tailor content and calls to action based on what they know about groups or customers and even individuals, so they get the right thing at the right time to trigger the tipping point that makes them click that 'Add to basket' button.
Crafting digital experiences that influence human behaviour
If you're in the business of selling products, you need people to buy them. If you're a charity, you need to raise funds. If you offer professional services, you need clients.
There's little argument that digital touchpoints are a crucial part of any business's marketing strategy, but long gone are days when simply having a website helps you stand out amongst your competitors. It's about what your website (and app, and social media, and email comms...) does to deliver outcomes that are strategically important, that will make the difference.
The good news is that digital has the potential to be a very effective tool in turning leads into prospects, and prospects into customers. The question is this: will the digital experience influence people's emotions, opinions, and most importantly, their behaviour, to get them to where you need them to be?
This doesn't happen by accident. It only happens by design.
Coming up
Next we'll be looking at why designing a successful digital experience shouldn't involve reinventing the wheel.